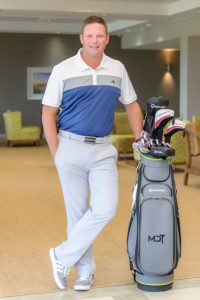 I had the opportunity to catch up with Meyer du Toit, the National PGA Professional of the year 2015, to chat about how golf course maintenance affects the game of golf.
Here are some highlights from our meeting:
Communication is key!
"My mentor, Mr Jeff Clause taught me to believe that every Golf Director should start their day with a cup of coffee with their superintendent. This is just to discuss the daily routine and for everyone to be on the same page. This is also great for the superintendent to receive feedback from the Golf Director based on what he/she has observed from members and visitors. It is imperative for both the Golf Director and Superintendent to be able to confidently approachable to achieve the same goal at the end of the day. The Golf Director and Superintendent see the course differently and therefore the importance of communication is imperative to achieve both quality and playing ability of the course. In my case we have a monthly maintenance meeting which the contractors, agronomist and the Estate's Managing Director is present to have a meeting for everyone to be on the same page. These minutes are sent to the golf committee to keep them updated. We also have quarterly meetings  whereby the committee member with the golf portfolio is present to discuss contract matters and do a general check-up on the machinery. Having these meetings are extremely important and must always be recorded and actioned accordingly before the next meeting. These meetings assist in a clear line of communication and responsibility."
What is the most common complaint you receive from golfers?
"For most golfers the most important part of the course are the greens. Golfers tend to rate your course based on tee's and greens. With tongue in cheek the feedback we receive sometimes also depends on the quality of golf the golfer played. Golfers tend to complain if the rough was not cut to the requirement standard, or when the course is too wet. Difficult pin positions are also quite common complaints, the average golfer wants to have fun on the course, they don't want to struggle out there."
What type of consideration should golf course maintenance staff give towards golfers? 
"It is very important for the maintenance staff to be courteous to golfers. It can be very difficult for the maintenance staff to attend to their daily duties if they have to stop all the time but just acknowledging the golfer, already puts him at ease. Staff should always make a concerted effort to keep their voices down and stop their machinery when golfers approach their ball.  Golfers will always look for an excuse for a bad shot, so best to try and keep the blame off yourself."